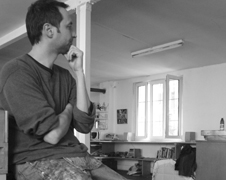 Paolo Friz was born 1966. He studied illustration at the "Lucerne University of Applied Sciences and Arts" in
Switzerland as well as at the "Academy of Arts, Architecture and Design Prague" in the Czech Republic and
finally graduated as a Master of Arts at the "University of the Arts London, Central Saint Martins".
Since 1995 he has been working with many leading art directors in advertising, design, publishing and editorial.
His professional experience and educational background led him back to the "Lucerne University of Applied Sciences
and Arts" in Switzerland where he works as an university lecturer next to his freelance activities.
In 2004 and 2005 he received the awards of excellence given by the Society of News Design Houston, America.
In 2004 Kircher-Burkhardt, one of the leading editorial design groups in Germany based in Berlin, voted him one
of Germany's top five Illustrators.